YuMove Digestive Care (120 tabs)
Tax included.
Ideal for dogs with sensitive tummies
Supports digestive health
Tops up good bacteria
Blocks bad bacteria


YuMOVE Digestive Care (formally YuDIGEST) for cats and dogs is a daily supplement tablet containing a complex of prebiotics and probiotic bacteria specifically developed to actively support your pet's digestive health. It works by helping to maintain firm stools, reduce excessive wind and support 'good' bacteria in the gut.
View full details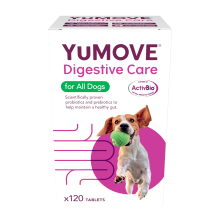 YuMove Digestive Care (120 tabs)