WHIMZEES Toothbrush Star Small Mix (24pcs)
Tax included.
Whimzees Dental Chews are a completely edible chew made out of all-natural compounded vegetable fibres. Free from gluten, sugar and artificial ingredients, each chew has a unique vegetable based texture that helps to prevent plaque and tartar building up on your dog's teeth as they chew. They come in a variety of fun shapes and sizes including toothbrush, alligator and hedgehog.

Ingredients: Potato starch, glycerin, powdered cellulose, lecithin, dried brewer's yeast, color added (malt extract, annatto extract, alfalfa extract).

Whimzee Toothbrush 
Whimzees Dog Treats feature a special blend of six primary ingredients designed to promote and support your dog's dental health. The fun shapes of these dental dog treats provides a uniquely knobby surface full of grooves and hollows. The contours, paired with the vegetable-based texture, help these natural dog treats remove plaque and tartar build-up as your dog chews. The recipe for Whimzees Dog Treats includes low fat, gluten-free ingredients like potato starch, lecithin and yeast. The recipe is specially formulated to be both tasty and highly digestible. The fun shape of these natural dog treats not only supports your pet's dental health but also add interest to play and snack time.
View full details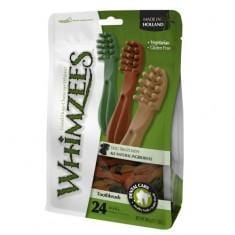 WHIMZEES Toothbrush Star Small Mix (24pcs)