Sku:

5023538101624

Vendor: Thrive
Thrive Complete Kitten Chicken 75g
Tax included.
Made with 100% Chicken Breast - the only source of protein.

Thrive Complete Kitten Chicken Breast is cooked in a chicken broth with added vitamins and minerals to give your kitten a complete nutritionally balanced meal.
Kittens (and cats) are strict carnivores and have no dietary need for carbohydrates such as grains (e.g rice or wheat). It is for this reason that our kitten wet food is protein-focused and grain-free, with only 0.2% carbohydrate content.

Good hydration is vital to a healthy kitten, which is why all our wet foods are formulated with water for optimum hydration, instead of the artificial gelling agents found in other brands. 
View full details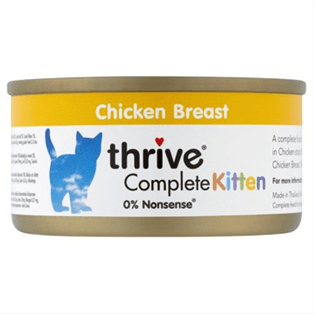 Thrive Complete Kitten Chicken 75g