Natural Hoki Fish Oil Supplement for Cats & Dogs (225ml)
Tax included.
Benefits

ZEAL ® Hoki Oil is rich in Omega-3 fatty acids which promote the health and well-being of dogs & cats. Our pets can't make Omega 3 in their own bodies, it must be in the diet.

Skin & Coat health: The skin's barrier properties are improved and it helps in reducing dryness and itching. Supple and flexible skin is less prone to damage and will heal better if damaged. It helps to reduced shedding and supporting a healthy glossy coat.

Brain health: Cognitive function and traineabilty are improved by Omega 3. The DHA fatty acids in Omega 3 are needed to build new and replace damaged brain cells, and without EPA fatty acids, the brain does not function properly. Omega 3 is also essential for brain development in kittens and puppies.

Heart Health: Omega-3 help to maintain heart health by improving blood flow, and heart health in general.

The Omega 3 in Fish Oil works towards reducing:-

• chronic inflammatory activity improving blood flow.

• formation of blood clots as has an anti-coagulent activity,

• oxidation of fats in the bloodstream through antioxidant activity

Immune System support: The Omega 3's in fish oil helps your immune system by reducing inflammation and improving your blood chemistry. A well functioning immune system is more able to attack foreign invaders, and healthy cells are more able to resist damage.

Eye health: Research shows that two omega-3 fatty acids, (DHA) and (EPA) are important for visual development and retinal function. DHA is found in the highest concentration in the retina of the eye.

Joint Support: The EPA in Omega 3 can help towards reducing inflammation, thus improving fluidity of the joints. It turn, this may help towards easing joint pain, reducing stiffness and increasing mobility as a result of improved joint health.

Kidney Disease: In pets with kidney problems, fish oil may lower elevated blood pressure, decrease undesired protein loss in urine, and reduce the production of pro-inflammatory substances that aggravate kidneys.
View full details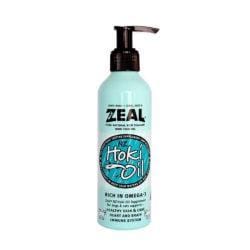 Natural Hoki Fish Oil Supplement for Cats & Dogs (225ml)