Sku:
Vendor: The Vet Store
Milpro Dog Milbemycinum/Praziquantel 12.5mg/125mg (1 tablet)
Tax included.
A small and very palatable tablet that is a broad spectrum deworming tablet.

Milpro has been shown to be highly effective in treating mixed infections of cestodes and nematodes of the following species:

Cestodes, Dipylidium caninum, Taenia spp., Echinococcus spp., Mesocestoides spp., Nematodes, Ancylostoma caninum, Toxocara canis, Toxascaris leonina, Trichuris vulpis, Sprirocerca lupi

COMPOSITION: Milpro Dogs contains 12,5 mg milbemycin oxime and 125 mg praziquantel per tablet.
View full details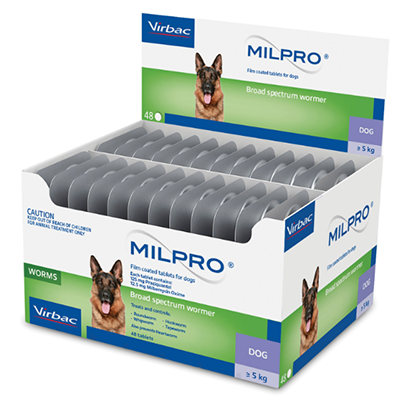 Milpro Dog Milbemycinum/Praziquantel 12.5mg/125mg (1 tablet)