Inaba Churu Pops Tuna with Chicken 60g (4 Tubes)
Tax included.
Brand: Inaba Churu
Cat Pops Tuna with Chicken
Size: 15g x 4 Tubes

The Inaba Churu Pops Tuna with Chicken Recipe are tasty jelly treats for cats. It's made with pure wild tuna or farm-raised chicken. The Churu Pops are high in moisture which your feline needs for health.Tear open one tube of this delectable treat and give a little squeeze to feed to your pal. This treat is grain-free and preservative-free. You may feed them by hand or pour them into your cats bowl. You may also use this treat as a tasty topper on any wet or dry cat food.

Ingredients - Water, Tuna, Chicken, Natural Flavors, Natural Tuna Flavor, Carrageenan, Xanthan Gum, Guar Gum, Fructooligosaccharide, Potassium Chloride, VitaminE Supplement, Sodium Citrate, Green Tea Extract.
View full details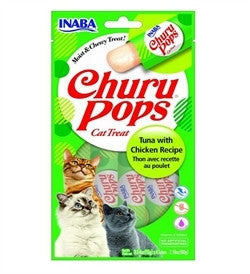 Inaba Churu Pops Tuna with Chicken 60g (4 Tubes)