Hypoallergenic Fish & Potato Dog Dry Food 12kg
Tax included.
Farmina Vet Life Hypoallergenic Fish & Potato is a complete dietetic food for dogs formulated for the reduction of alimentary intolerance. It is also recommended as coadjuvant in the support of trophic function of the skin and of its appendages: eye, ear, anal sacks. Mode of action: The adverse reactions to foods are usually caused by residuals (antibiotics, antiparasitics and various additives) being part of the diet to which the dog becomes sensitive. Farmina Vet Life Hypoallergenic Fish & Potato contains only wild fish from the Northern Sea (herrings) as unique animal source for proteins; potato is the only source of starch. Moreover, the protein content increases hypoallergenic properties of the product. The high concentration of essential fatty acids ensures that inflammatory processes in the skin and appendages occur less frequently. Treatment modalities It is recommended that a veterinarian's opinion be sought before use and before extending the period of use. Serve the product as it is, following the daily quantity indicated in the table. Recommended period of use: from 3 to 8 weeks. In case the intolerance symptoms disappear, Farmina Vet Life Hypoallergenic Fish & Potato can be used indefinitely. The daily quantity can change according to breed, environment, physical exercise, disposition and the seriousness of the illness. The dose can be divided into two daily meals or more. Always leave a clean bowl of fresh water throughout the day in order to hydrate the animal as much as possible.

Ingredients : Potato (69%), dehydrated fish (14%), fish oil, calcium carbonate, mono-dicalcium phosphate, sodium chloride.
Protein source : fish.
Carbohydrate Source : Potato.

Nutritional Additives : Vitamin A 15000IU; Vitamin D3 900IU; Vitamin E 150mg; Vitamin C 150mg; Niacin 38mg; pantothenic acid 15mg; Vitamin B2 7.5mg; Vitamin B6 6mg; Vitamin B1 4.5mg; Vitamin H 0.4mg; folic acid 0.45mg; Vitamin B12 0.06mg; choline chloride 2000mg; beta-carotene 1.5mg; zinc oxide 145mg; zinc sulphate monohydrate 160mg; manganous sulphate monohydrate 188mg; ferrous sulphate monohydrate 44mg; ferrous carbonate 60mg; copper sulphate pentahydrate 48mg; calcium iodate anhydrous 2.4mg; sodium selenite 0.33mg; Taurine 1000mg. Technological additives: antioxidants.

Analytical Compounds : Raw protein 15.50%; raw oils and fats 13.00%; raw fiber 1.70%; raw ashes 7.60%; calcium 0.70%; phosphorus 0.50%; sodium 0.25%; potassium 1.10%; magnesium 0.095%; Omega-6 fatty acids 0.40%; Omega-3 fatty acids 2.20%; EPA 0.60%; DHA 0.83%.
View full details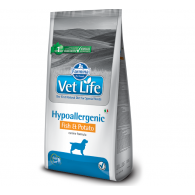 Hypoallergenic Fish & Potato Dog Dry Food 12kg