Hanto Interactive Cat Toy 28.5x7cm
Tax included.
Introduction:

The Flamingo Hanto Interactive Cat Toy in a cool Grey/Blue design is crafted from durable plastic, and this toy is designed to provide endless entertainment for your feline friend.

Watch as your beloved pet pounces, plays, and indulges in a delightful treat-hunting adventure with the Flamingo Hanto Interactive Cat Toy. Make playtime enriching and entertaining for your feline companion today.

Product Features:

- Material: plastic

- Appropriate for animals 3 months and older.

- Can contain dry food, paste, or snacks.

- Non-slip bottom

- Safe for dishwasher

- Challenges both the mind and body of your cat

- Level 1: Snacks and food are simple to locate

- A slow feeder can also be used to stop gobbling.
View full details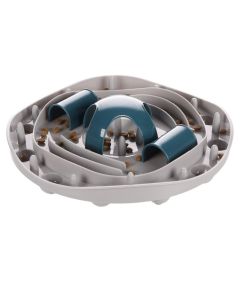 Hanto Interactive Cat Toy 28.5x7cm