Flapso Moving Squirrel Cat Toy 35cm
Tax included.
Introduction:

Flamingo Flapso Moving Electronic Squirrel Cat Toy – Your Feline Friend's New Playtime Companion! Your curious kitty deserves endless entertainment, and the Flamingo Flapso cat toy is here to deliver just that. Measuring 36cm, this electronic raccoon toy is designed to captivate your cat's attention and keep them engaged for hours on end.

Keep your cat active, happy, and mentally stimulated with the Flamingo Flapso Moving Electronic Raccoon Cat Toy. Whether your feline friend is a young kitten or a seasoned player, this toy is sure to provide endless hours of joy.

Product Features:

- Interactive Fun: With the Flamingo Flapso, playtime comes to life! The built-in motor makes the raccoon's tail move, mimicking real-life critters that your cat loves to chase.

- Easy to Operate: Equipped with a convenient on/off switch, you can activate the tail's movement at your cat's whim. It's as simple as that!

- Battery Included: We've got you covered. Your Flamingo Flapso comes with a USB to DC cable and a GT 602035 battery to ensure uninterrupted playtime for your furry friend.

- Irresistible Catnip: To enhance your cat's enjoyment, we've included catnip inside this playful Squirrel toy. Watch your cat pounce, bat, and roll around in sheer delight.
View full details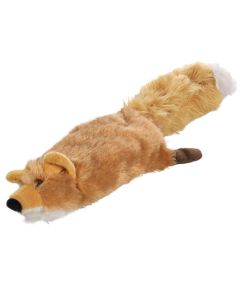 Flapso Moving Squirrel Cat Toy 35cm