Eco Safety Cat Collar – Granite
Tax included.
Safety Cat Collar in LupinePet Eco Collection is a safe and eco-friendly choice for your feline friend. Our breakaway safety cat collars are ½" wide and adjust from 8″ to 12″ to fit most cats. All LupinePet cat collars are available with or without a bell.

Eco Recycled cat collars are offered in several colors inspired by the natural world with a unique weave for a chic and simple look. LupinePet's breakaway buckle is custom designed to release with approximately 5 lbs. of pressure. The breakaway action can save your curious kitty from becoming tangled on branches or other fun things.

Featuring premium components, including:

Custom designed YKK® breakaway safety buckles
Steel D-ring for ID Tags
Unique 2-tone weave, Made from recycled plastic bottles
Attached bell

"Purr"fect to pair with a fun Dog Tag Art ID Tag, they even come in small! Our breakaway safety cat collars are available in several collections with dozens of design & color choices. Pick your favorite to to show off your style.

Note: Due to its safety breakaway feature, this collar is for ID purposes only, not to be used with a leash.

Product Highlights

Durable Webbing – LupinePet's Eco webbing is made from recycled plastic bottles. Beautiful and earth friendly!

Safe Breakaway Buckle – For our custom safety breakaway buckles, we partnered with YKK, the leading buckle manufacturer, to design the optimum safety buckle that breaks away when needed.

Light-weight Steel D-Rings – A place to put your cat's ID tag, our light-weight steel D-rings are rust resistant and designed to last.

Adjustable Tri-Glide – The non-slip teeth molded into the nylon plastic tri-glide keep the collar at the correct size.

Cat Collar Bell – The optional bell will help you locate your kitty & help to keep the local feathered wildlife safe.
View full details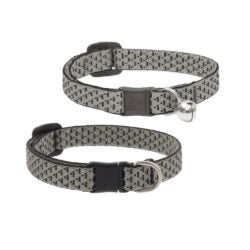 Eco Safety Cat Collar – Granite