Sku:

916

Vendor: Earthbath
EARTHBATH Hypoallergenic Tearless Shampoo Fragrance Free 475ml
Tax included.
Some of our beloved furry friends have skin allergies and sensitivities that can make it difficult to get clean and remain simultaneously happy. (Puppies & kittens often fall into this category.) earthbath solved this dilemma by blending the finest natural ingredients into this mild, hypo-allergenic, tearless shampoo. It cleanses thoroughly and safely, and even the most sensitive skin will not be affected because we used only mild, safe, non-irritants. It will leave your pet's coat soft, plush, and smelling naturally fresh. Will not wash off topical flea applications. Safe for all animals over 6 weeks. Soap free.

Ingredients

Purified water, extra-mild renewable coconut- based cleansers, aloe vera, xanthan gum, olive oil squalene (natural preservative). All ingredients are natural, 100% biodegradable, and gentle.

Non-Ingredients

Anything that would harm you, your pet, or the planet. This product contains no: parabens, phosphates, pthalates, DEA, synthetic dyes or perfumes. The sudsy runoff is completely safe and will not harm kids, lawns or other living things.

Precautions

Avoid contact with eyes. Product is solely intended for use on coat and skin. Flush thoroughly with clean water if eye contact occurs. Keep out of reach of children. If swallowed (by humans), consult a physician.
View full details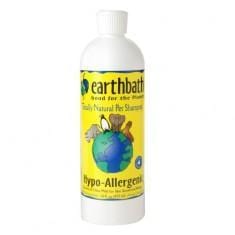 EARTHBATH Hypoallergenic Tearless Shampoo Fragrance Free 475ml