Puppy & Junior Medium 6kg
Tax included.
PUPPY & JUNIOR FOR PUPPIES WEIGHING 9 TO 25 KGS AT MATURITY

Young dogs need a diet rich in different fresh whole meats with small amounts of fruit and vegetables to help them develop.

ACANA Puppy & Junior contains free-run chicken, nest-laid eggs, and wild-caught flounder from North Vancouver Island.

This food is free from fast carbohydrates and free from grain, instead of promoting rich meat proteins.

Puppies require a diet rich in protein and fat with smaller amounts of fruits and vegetables. That's why ACANA PUPPY & JUNIOR features extra inclusions of free-run chicken, nest-laid eggs and wild-caught fish, all of which nourish your puppy's healthy development.

Features

• 70% MEAT | LOADED WITH PROTEIN 
• 1/3 FRESH OR RAW MEAT | 2/3 DRIED MEAT 
• 3 FRESH MEATS | LOCALLY SOURCED 
• WHOLEPREY™ | SUPERFOOD FOR DOGS, ONLY ZINC ADDED 
• FREEZE-DRY INFUSED | INTENSE NATURAL FLAVOUR 
• CARBOHYDRATE-LIMITED & LOW GLYCEMIC (GL 3) | SLOW RELEASE ENERGY 
• WHOLE VEGETABLES, FRUITS & LOCAL BOTANICALS | FRESH DAILY

Ingredients

Fresh chicken meat (16%), chicken meal (13%), turkey meal (13%), red lentils, whole green peas, fresh chicken giblets (liver, heart, kidney) (6%), chicken fat (6%), fresh whole eggs (4%), fresh whole flounder (4%), herring meal (3%), herring oil (3%), sun-cured alfalfa (2%), green lentils, field beans (2%), whole yellow peas, pea fiber, fresh chicken cartilage (2%), dried brown kelp, fresh whole pumpkin, fresh whole butternut squash, fresh whole parsnips, fresh kale, fresh spinach, fresh mustard greens, fresh turnip greens, fresh whole carrots, fresh red delicious apples, fresh Bartlett pears, freeze-dried chicken liver, freeze-dried turkey liver, fresh whole cranberries, fresh whole blueberries, chicory root, turmeric, milk thistle, burdock root, lavender, marshmallow root, rose hips.
View full details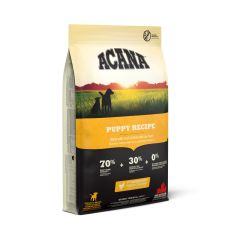 Puppy & Junior Medium 6kg