Clumping White Active Litter 10Lt
Tax included.
White clumping litter with finer granules for superior hygiene.
Finer granules for stronger clumps easy to clean.
Oxygen neutralizes unpleasant odours for superior hygiene and odour control.
Leaves no dust and stains and is soft on your cat's paws.
Releases a pleasant Marseille soap fragrance with every use.
View full details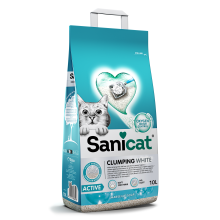 Clumping White Active Litter 10Lt