Sku:
Vendor: Rosewood Natural Eats
Chicken Tenders Dog Treats 80g
Tax included.
Product Features:

Completely Natural Ingredients: These treats are a nutritious and delectable choice for your pet because they are made with 100% natural chicken breast meat and are
Grain & Gluten Free: These snacks are ideal for dogs with dietary allergies because they are devoid of grains and gluten and are low in fat and easy to digest. They are a fantastic option for dogs who need to maintain a healthy weight because they have a low fat content.
Ideal For Rewards & Training: They are ideal for rewarding and training your dog when cut into delicate bite-size pieces.
Reseal Zip Quickly: Reseal the pouch with the simple reseal zip to keep the treats fresh so your dog may savour the delectable flavour whenever they need a snack.

Ingredients:

Chicken (85%), Soy Protein, Potato Starch, Vegetable Glycerin, Salt

Analytical Constituents/ Analysis:

Crude Protein 40%, Crude 1.5%, Crude Ash 5.0%, Crude Fibres 2.0%, Moisture 23%.

Additives: Technical; Natural Preservatives.
View full details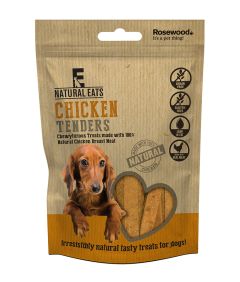 Chicken Tenders Dog Treats 80g