Advance 360 for Cats (60 Capsules)
Tax included.
The YuMOVE ADVANCE 360 range benefits from the new and unique combination of ActivEase ® Green Lipped Mussel extract, and a new highly bioavailable purified fish oil to provide a guaranteed and highly concentrated source of Omega 3 EFA's to soothe stiff joints.

To provide our most advanced formula yet, YuMOVE ADVANCE 360 also includes increased levels of Vitamin E to provide significant protection against free radicals to maximise mobility. YuMOVE ADVANCE 360 for Cats is Vitamin C and Phosphate Free.
View full details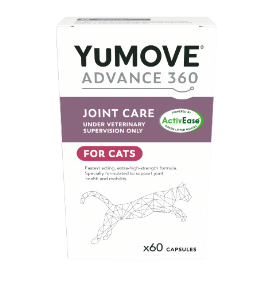 Advance 360 for Cats (60 Capsules)