Adult Wild Boar with Cranberry 400g
Tax included.
Calibra Dog Life Adult Wild Boar with Cranberries - This canned food recipe for dogs with wild boar and cranberries is a complete food designed for adult dogs. The recipe with a single type of protein is formulated with a limited number of ingredients. It contains no grains or gluten, which has an effect on the food's excellent digestibility. It contains only 100% defined ingredients.

The recipe contains cranberries, known for their high antioxidant and polyphenol content. They are an excellent source of Vitamin C, and have proven beneficial effects on the urinary tract. 

Salmon oil is a source of Omega-3 unsaturated fatty acids (EPA, DHA), necessary for brain development and function, and to support  the physiological functions of the skin and coat and the quality thereof. Omega-3 also has anti-inflammatory properties.

Composition: wild boar (70 %), cranberries (4 %), pea flour, lignocellulose, salmon oil (1 %), calcium carbonate.

View full details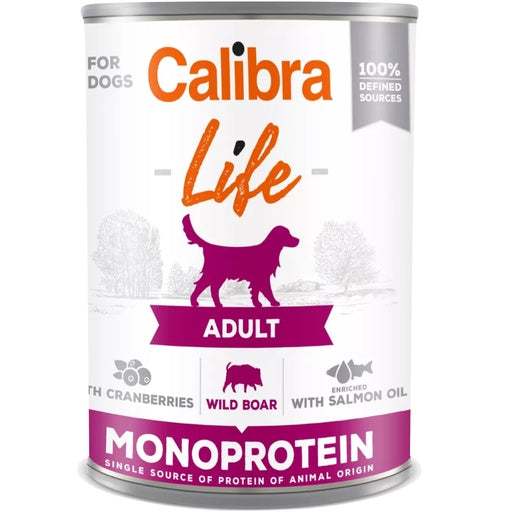 Adult Wild Boar with Cranberry 400g