Adult Beef with Carrots 400g
Tax included.
Calibra Dog Life Adult Beef with Carrots – This canned food recipe for dogs with beef and carrots is a complete food designed for adult dogs. The recipe is based on a single type of protein. The composition of the canned food comprises a limited number of ingredients. It is grain-free and gluten-free, which makes it easily digestible. It contains only 100% defined ingredients of the highest quality.

The recipe contains carrots, an excellent source of vitamins, minerals, fiber, and has a positive effect on digestion and the immune system. They also have strong antioxidant properties. 

Salmon oil is a source of Omega-3 unsaturated fatty acids (EPA, DHA), necessary for brain development and function, and to support the physiological functions of the skin and coat and the quality thereof. It also has anti-inflammatory properties.

Composition: beef (70 %), carrots (4 %), pea flour, lignocellulose, salmon oil (1 %), calcium carbonate.

View full details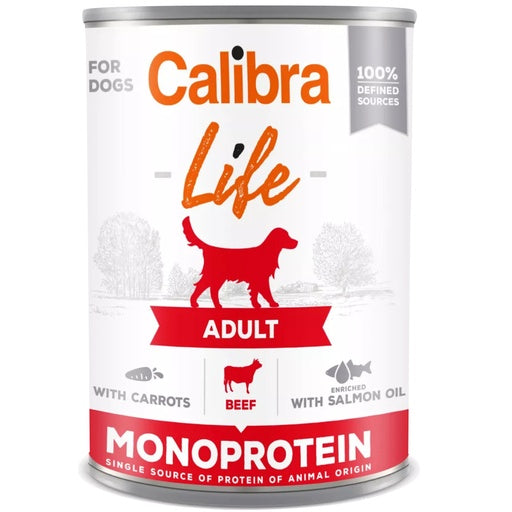 Adult Beef with Carrots 400g