Sku:
Vendor: BIO PetActive
Silycumin Milk Thistle and Turmeric Extract 100tabs
Tax included.
Silycumin is a supplementary feed premix that regulates liver and kidney function and supports the immune system of cats and dogs.

A high rate of 80% Silymarin which is an active substance of Milk Thistle extract is used in Silycumin.

Curcumin is an active ingredient of Turmeric Extract that used in Silycumin. Taking into the acount the fact that Curcumin has a weaker absorption in the body, a water-soluble Curcumin which produced with high-end technology is used in Silycumin. This increases the bioavailability of the product by increasing its absorption in the body.

Removes toxins from liver and kidney

Regulate liver and kidney functions

Supports liver regeneration

Supports kidneys that are damaged by diabetes

Its antioxidant properties may benefit as an anti-cancer support

Your cats and dogs are exposed to many toxins in antibiotic and chemotherapy treatments, after internal and external parasitic drugs and vaccinations and even with industrial foods. It is recommended to use Silycumin to detoxify these toxins stored in the liver from the body.

Usage

To meet the need for vitamin and amino acid, for every 5kg weight of cats, add 0.5 gr (1 tablet) to the food or can be given directly.
View full details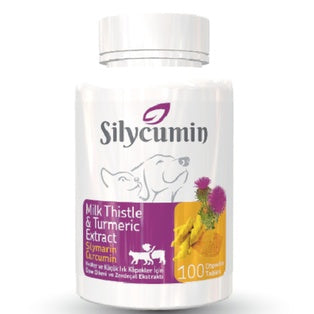 Silycumin Milk Thistle and Turmeric Extract 100tabs